34 Vintage Venetian Murano Hand Blown Teardrop Millefiori Art Glass Capped Beads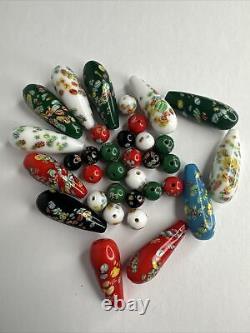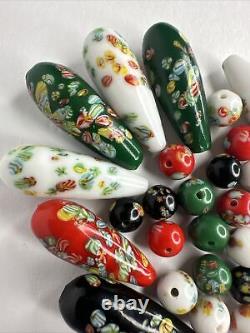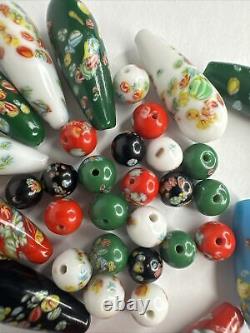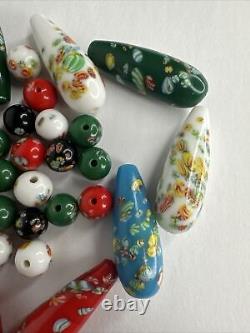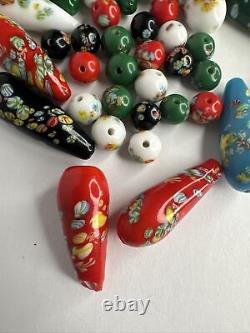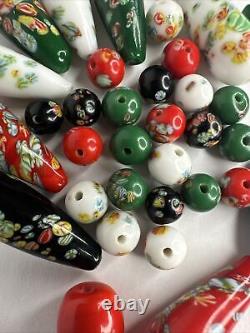 Unleash your creativity with our collection of 34 loose Vintage Venetian Murano Hand Blown Teardrop Millefiori Art Glass Capped Beads. These exquisite beads showcase the exceptional artistry of Italian glass makers, making them an excellent addition to any craft, bead, or vintage collection. The lot comprises 12 uniquely shaped teardrop beads and 22 circle beads, each handcrafted and meticulously detailed in the time-honored Millefiori technique. With their vibrant colors and intricate patterns, these Venetian beads will add a touch of elegance and uniqueness to any jewelry design.
Whether you're a craft enthusiast, a bead collector, or a vintage lover, these Murano glass beads are a perfect pick. Use them in your jewelry making or simply add them to your collection; their Venetian artistry is sure to impress. Please note that each bead is exactly as pictured, preserving the authenticity and charm of these Murano glass beads. Don't miss the opportunity to own this piece of Venetian history and creativity!
Tags: #VintageVenetianBeads #MuranoGlass #MillefioriDesign #HandBlownBeads #ItalianArtGlass #BeadCrafting #VenetianArtistry #MuranoHandBlown. Vintage Beading Supplies, Loose Venetian Beads, Antique Italian Glasswork, Handcrafted Murano Beads, Venetian Millefiori Beads, Artisan Glass Beads, Italian Bead Collection, Vintage Craft Supplies, Unique Murano Glass Beads, Traditional Venetian Glass, Beading Craft Supplies, Vintage Italian Artistry, Murano Glass Collectibles, Millefiori Beading Art, Antique Murano Collection. Please review all images for a better condition description. Let us know if you have any questions. FROM A SMOKE FREE HOME.

---